School Readiness (Financial Assistance) Program
ELC Broward School Readiness Program offers financial assistance to income-eligible families to obtain affordable, high-quality child care in Broward County.
To Apply for School Readiness, Click Here.
---
Eligibility Criteria:
Working

and/or participating in an

educational activity

such as college/trade school

at least 20 hours per week; or 
Temporarily or permanently disabled

as documented by a physician and/or a Social Security Award letter.

  
                                     AND

Gross

household

income at or below 150% of the Federal Poverty Level (FPL)*

Family of 1 person = $21,870 or less
Family of 2 people = $29,580 or less
Family of 3 people = $37,290 or less
Family of 4 people = $45,000 or less
Family of 5 people = $52,710 or less
Family of 6 people = $60,420 or less
For a complete sliding scale list of fees based on FPL,
click here: Sliding Fee Scale FY23-24
School Readiness (Childcare Subsidy) Application Tutorial
---
For more video tutorials to register for the School Readiness Program, watch these  TUTORIAL VIDEOS.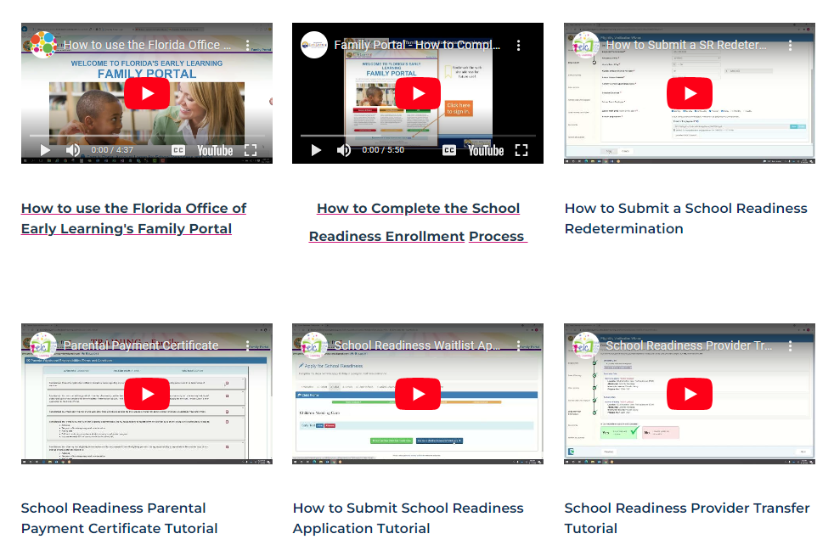 How to apply for the School Readiness Program: A Step-by-Step Guideline
Step 1 – Click Apply to School Readiness to create a Family Portal Account

Step 2- After creating/activating your account, sign in and apply for School Readiness. 

Step 3 – Allow ELC Broward staff up to 20 Calendar days to follow up with the next steps