Welcome to ELC Broward's VPK program page 
Florida's Voluntary Prekindergarten Education Program (VPK) is a free program to prepare 4-year-olds for success in kindergarten and beyond. It helps prepare your child to be strong readers and successful students  by focusing on literacy skills-building, accountability, learning materials, manageable class sizes, and qualified instructors' expectations.
To register for VPK, click here
How do I qualify?
• Parents/guardians must be Florida residents.
• Children must turn 4 years old on or before September 1st of the current school year.
How much does it cost? 
The VPK program is FREE to Florida families and has no income requirements or restrictions. 
Have a question we didn't answer? Don't hesitate to call us at 954-377-2188. We have staff  who can help Spanish and Haitian Creole speaking families with the online application. We are eager to help!
PRE-KINDERGARTEN VOLUNTARIO GRATUITO PARA NIÑOS DE 4 AÑOS VIDEO (VERSIÓN EN ESPAÑOL)
VIDEO PRE-KINDERGARTEN VOLONTÈ GRATIS POU MOUN 4 AN ( VÈSYON KREYÒL)
To learn how to apply for VPK, watch these
VPK Application Tutorial Videos.
Parents have the option of enrolling children in one of the following VPK programs:
School-year Program: 540 instructional hours and a class size of 20 or fewer students. At a minimum, instructors must hold a Birth through Five Florida Child Care Professional Credential and complete special training on early literacy and performance standards.
Summer Program: 300 hours of instruction and a class size of 12 or less. Instructors must hold a bachelor's degree. 
Specialized Instructional Services program (SIS): hours vary based on services provided. SIS is for children with special needs who have current individual educational plans (IEP) developed with Broward County Schools. Learn more about VPK SIS.
VPK Child Care Provider Listing:
Looking for a certified child care provider in your area? View our VPK Child Care Provider Listing. This list is updated on a monthly basis.     
Click Here to view our VPK Summer Child Care Provider Listing for 2023.
Search for VPK providers in Broward County and view by their profile:
Search for VPK providers in Broward County and view their profile:
To find information about VPK providers, including class scores, hours of operation, and the latest inspection reports, please visit the DCF Provider Search tab click here.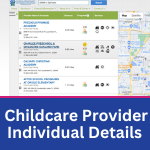 This link will take you to the Department of Children and Families (DCF) Provider Search and Profile. To locate a provider, please follow these steps:
Step 1: Enter a Zip Code, City or County to produce a list of childcare providers in that area –OR– Enter an Address, Provider Name or License # to select a specific child care provider
Step 2: Providers offering VPK will have the VPK logo listed to the right under the "Programs" heading
Step 3: For detailed information, click on the childcare provider name, then click the tabs: "About Provider", "VPK", or Services
Search for VPK Readiness Rates on the Division of Early Learning's Readiness Rate Website:
To search for VPK Readiness Rates, click here to access the Division of Early Learning's Readiness Rate website. To locate a provider, please follow these steps:
Step 1: To conduct a "Standard" search, to the right of the screen, enter the Provider Name. 
Step 2: To conduct an advanced search, select "Advanced". This will allow you to search for a provider by city and/or zip code
Step 3: To view the detailed report of the VPK provider's readiness rate, click "View Report" 
You may also obtain a customized VPK Provider Listing from one of our certified Child Care Resource and Referral (CCR&R) Specialists.  To do so please call 954-377-2188 and request CCR&R services.